Flap App
Screenshot
User friendy & easy to use interface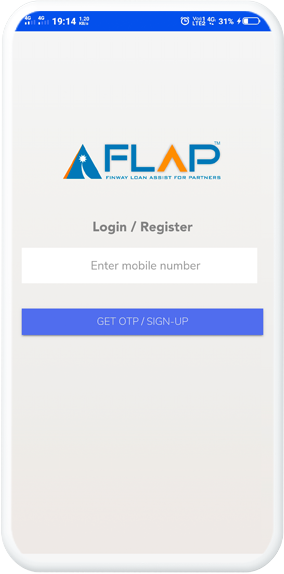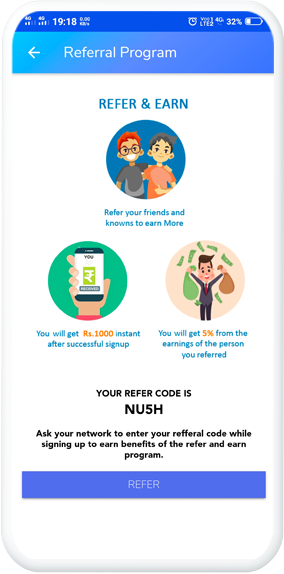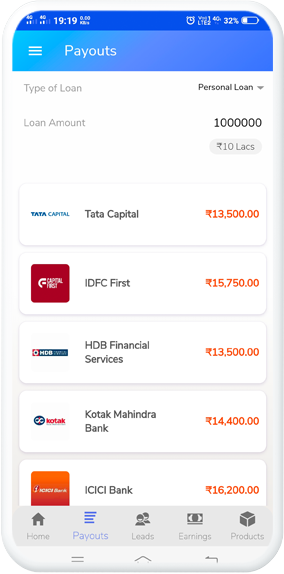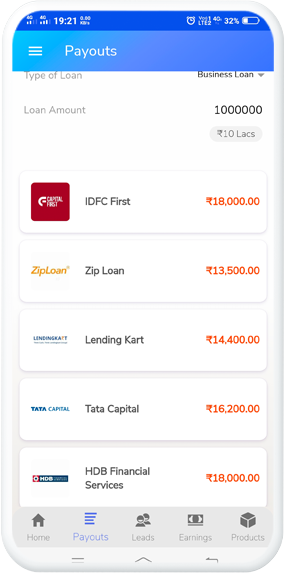 Who can become our Partner
Anyone (salaried/self-employed/freelancer/students) above 21 years and willing to enhance the monthly income can become the business partner of Finway FSC
How to Become our Partner
Just download our APP named flap using Android play store or Apple store
Sign up using KYC and basic details
Deposit registration fee using multiple payment option
Wait and relax while our team verifies your details once done start sellings
At Finway FSC, we specifically focus on catering to our customers' financial needs. Therefore, we offer an extensive portfolio of products like personal loans, business loans, life insurance, credit cards, and a host of other products. Whether they want a loan for buying a property or paying their children's education fees, we provide them with many options to choose from. We make sure that a financial crunch situation is far from becoming a blow to their pocket. You can become our dsa loan partner and equip people to face any financial trouble with confidence.
Finway FSC, a loan dsa franchise, has been in existence for years now. You can bridge the gap between your applicant and us by partnering with our institution. Your journey with us will be one long road of opportunities. Our support team is always there to mentor you along the way. We ensure 100% transparency by keeping you updated about your clients through digital means. We have also eliminated the need for going through any kind of paperwork; if you are above 21 and have a passion for the role, partner with us and earn the highest payouts.
Once you partner with us by filling out the online dsa loan agent registration form, we guide and support you on how to move the leads through the funnel. We would be delighted to get you onboard and have you trained professionally. Whatever product you are selling or are interested in selling, we can assist you in the process with our expert guidance. With our marketing material, you can become a recognized loan DSA agent by increasing your earning. The role doesn't require any investment and allows you to benefit from our free credit report.
FLAP App allows you to partner with us through a simple online process. You can navigate through the app smoothly. The app enables you to gain deeper insights into our DSA program. It helps you carry out the operations digitally with complete accuracy and precision. This means zero paperwork and zero chances of any slip-ups.
All those partnering with us receive dsa loan agent commission whenever they complete loan disbursal. You, too, can become our valuable partner in just a few easy-to-execute and straightforward steps. Our app supports both iOS and Android smartphones. It won't take you long enough to come to grips with it. After you download it, you need to fill in your phone number and email address. Once your details get verified, you can start with your mission of finding leads. The app also allows you to track the status of all your applications.
This app in all about empowering young entrepreneurs with easy partnership opportunities. Thanks Finway!
5.0/5
Mukesh Kumar
One of the best apps to register as a loan agent and avail the opportunity to grow money.
5.0/5
Kalpit Kumar
I am a Finway FLAP agent. Best thing is that this app has a simple interface and 24×7 customer support. Anyone who has basic financial knowledge can associate with Finway as its loan agent and begin earning.
5.0/5
Rishabh Sinha
With every successful loan process and disbursal, I am earning between 0.50% to 3%. Making money as a loan agent has never been so easy.
5.0/5
Ajay Yadav